Dental Implants – Tulsa, OK
Complete Restoration of Your Tooth Structure
If you think the only way to rebuild your smile is to replace only the visible portion (the crown), you'll be pleased to learn that Dr. O'Brien and our dentistry team have an alternative solution that is much more advanced – dental implants in Tulsa, OK. Designed to integrate with the bone tissues, these prosthetics offer permanence, longevity, and functionality, unlike other, more traditional tooth replacement options. Call us to schedule an appointment to find out if you are a candidate for treatment.
Why Choose O'Brien Dental Wellness Center for Dental Implants?
In-House Dental Implant Placement & Restoration
Cone Beam Scanner Used for Optimal Accuracy
Biologic Zirconia and Ceramic Dental Implants
What are Dental Implants?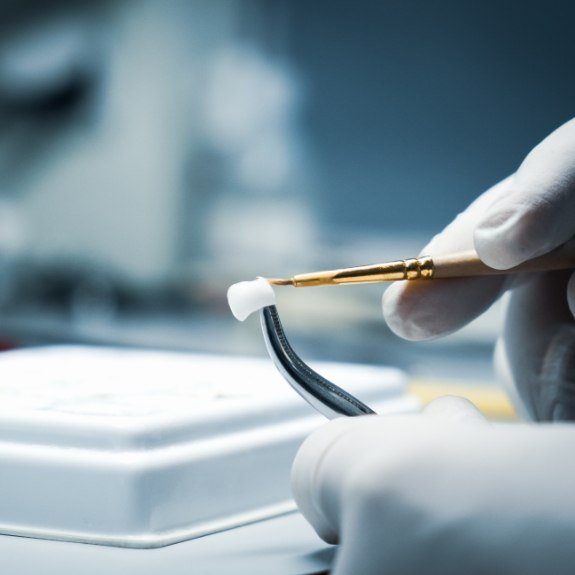 Our dental implants are small posts made out of ceramic or zirconia and mimic the natural structure of tooth roots. Placed into the jawbone to create a solid foundation for new teeth, they deliver exceptional support. Durable and fully functional, they work together with customized restorations (i.e., crowns, bridges, or dentures) to ensure greater speech, bite force, and confidence.
The 4-Step Dental Implant Process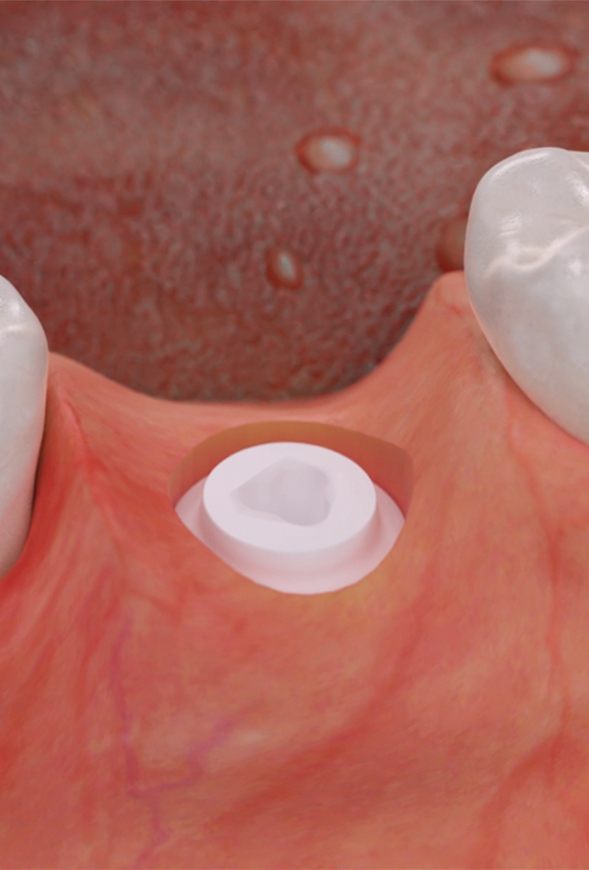 Initial Dental Implant Consultation: The first step is to schedule an appointment with your holistic dentist, Dr. O'Brien, who will go over your medical health history and determine if you are a candidate for treatment. He'll also look to see if you require any preliminary treatments such as gum disease treatment.
Dental Implant Surgery: Once you are cleared for surgery, Dr. O'Brien will make a small incision in the gums before inserting the ceramic or zirconia implant posts. Once finished, he will close the gum tissue and send you home to recover.
Dental Implant Osseointegration/Abutment: Over 3-6 months, osseointegration will occur, allowing the bone tissues and implants to fuse. This will create a firm foundation for your new teeth once they're put into place.
Delivery of Dental Implant Restoration(s): Once you're fully healed, you will return to our dental office to receive your fully customized dental crown or bridge.
Benefits of Dental Implants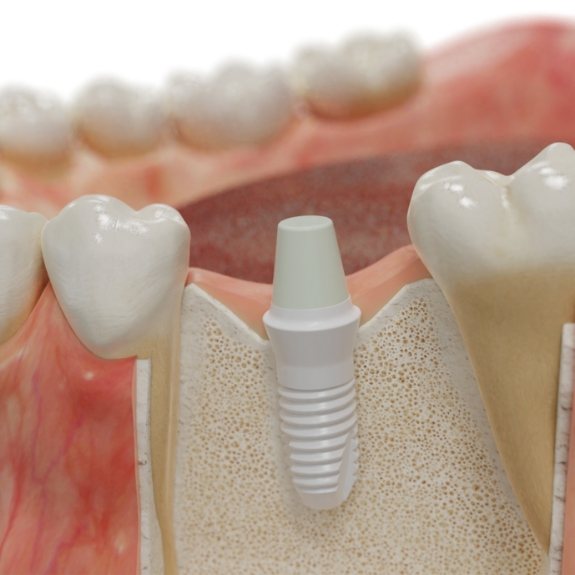 Numerous benefits come with dental implants, and Dr. O'Brien will be happy to go over them with you during your initial consultation. Apart from their permanence, they can last decades, making them extremely popular among those suffering from tooth loss. This eliminates the need for additional denture adhesives and frequent replacements over the years. Dental implants also:
Improve oral health because of the importance dental patients place on their smile once they receive their new teeth
Reduce the potential for diabetes, osteoporosis, and heart disease – all three conditions that are linked to tooth loss
Provide continuous stimulation to the jawbone, helping prevent facial sagging and collapse
Allow you to eat your favorite foods without fearing your teeth will slip or fall out
Who Dental Implants Can Help
Most patients who have missing teeth can receive dental implants; however, they may not be ready for surgery right away. It is necessary for our team to conduct a thorough consultation to determine if you might need preliminary treatment before having your implants put into place. During your first visit with Dr. O'Brien, he will make note of your current oral and overall health before discussing the versatility these prosthetics provide:
Missing One Tooth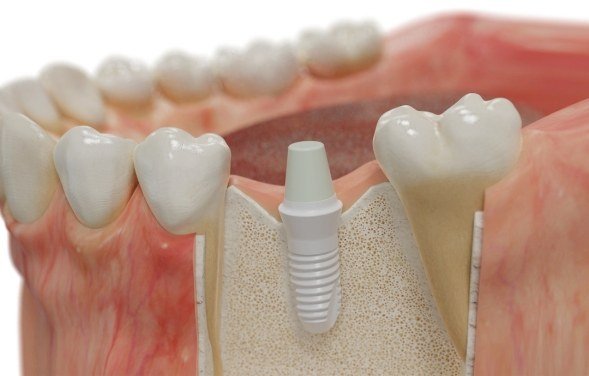 When only one tooth is missing, we can replace it with a customized implant post, abutment, and dental crown. This will restore oral function, allowing you to eat, speak, and smile with greater ease.
Missing Multiple Teeth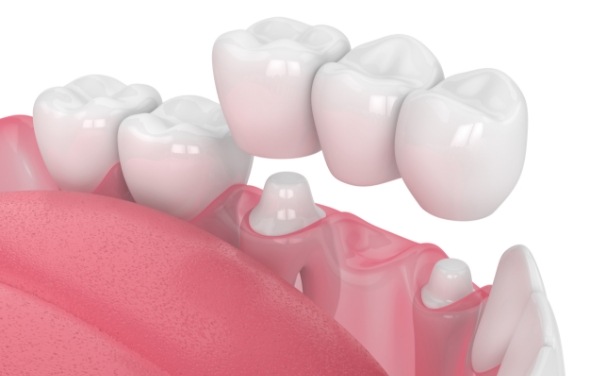 When faced with multiple missing teeth, we can place two dental implant posts before topping them with a customized dental bridge. Instead of altering healthy tooth structures, we can place the implants into the exterior sockets before attaching the bridge in place. If your missing teeth are along an arch but not next to each other, we can also create an implant partial denture.
Maintaining & Caring for Your Dental Implants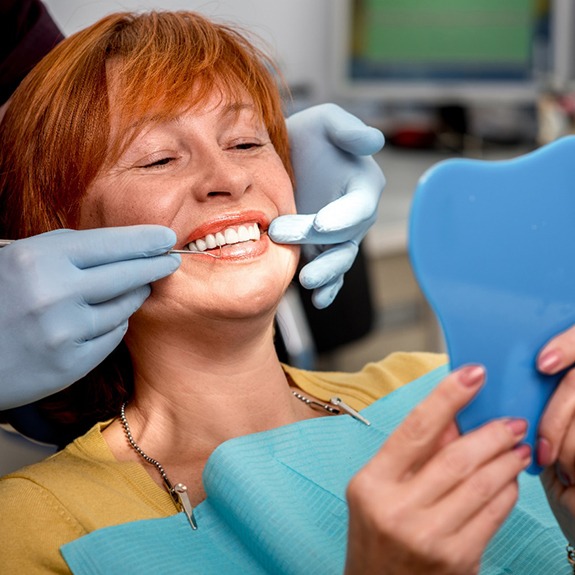 Ultimately, you can trust dental implants as tooth replacements. They may even keep your smile whole and healthy for a lifetime! Still, these prosthetics need maintenance to work well. Implants can easily fail from damage or infections otherwise. As such, you'll want to follow good dental implant care habits in Tulsa. Luckily, we at the O'Brien Dental Wellness Center are here to share a few. Just keep reading to learn about them and ensure your implants last.
Make Oral Hygiene a Priority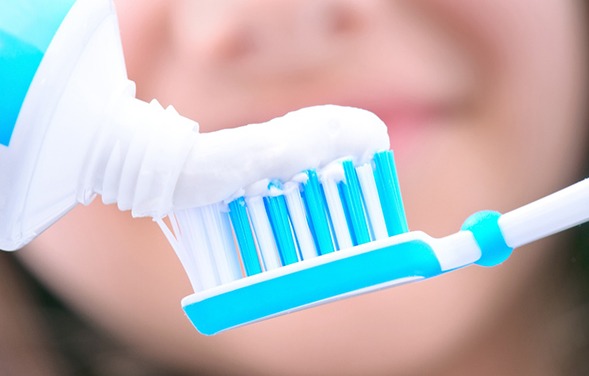 True enough, implants can't get cavities; their materials don't erode like enamel can. Despite that fact, though, you simply must clean the prosthetics daily.
You see, implants depend on your adjacent teeth and gums. Said body parts keep your restorations stable and secure. When they degrade, your new teeth can become loose and eventually fail. (For example, gum disease often triggers gum recession – a condition known to loosen implants.)
Given these facts, you'll want to stick to proper oral care. In particular, remember to brush twice daily, floss once daily, and rinse with mouthwash often.
Eat a Healthy Diet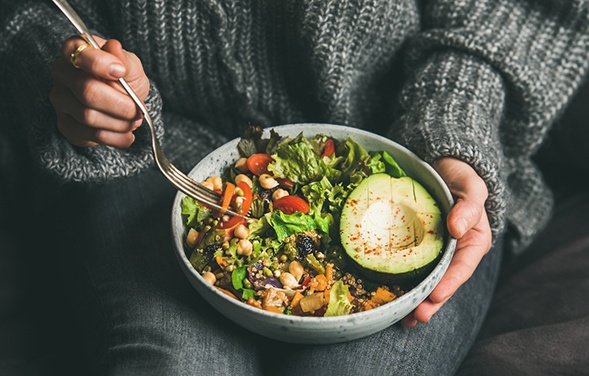 Because implants restore bite force, they usually let you eat as you please. However, it's still a good idea to follow a mouth-healthy diet.
Even after their fusion is over, implants are vulnerable to certain foods. Hard items – hard pretzels, nuts, etc. – can chip the prosthetics. At the same time, sticky and sugary stuff wedges between implants and decays nearby teeth. These traits mean sweet treats can trigger implant failure.
Meanwhile, foods with mouth-healthy nutrients help implants last. Those with calcium, phosphorus, and vitamin C can prevent gum disease and strengthen your jaw.
Break Bad Habits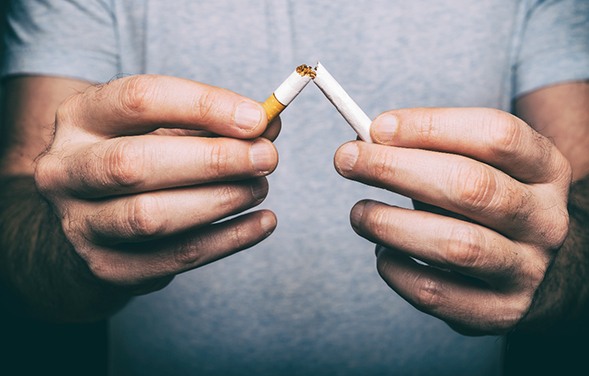 While they look harmless, bad oral habits can make implants fail or break. That being the case, quit such practices before or soon after treatment.
For instance, just look at the act of smoking. Many tobacco products – especially cigarettes and cigars – slow recovery from implant surgery. They also tend to cause gum disease, which raises your odds of implant failure.
Another poor habit to stop is chewing hard objects. You can chip your teeth by biting on fingernails, ice, and other such things.
Protect Your Dental Implants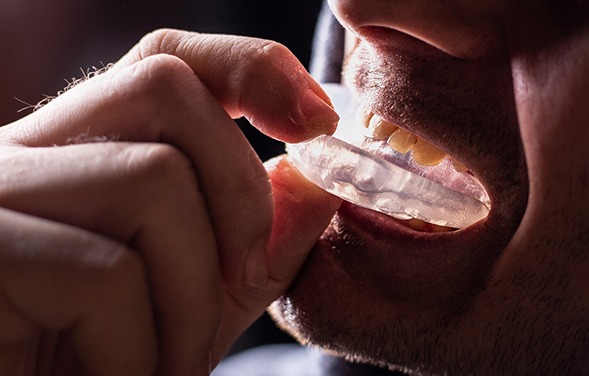 To be clear, implants are simply durable; they aren't indestructible or immune to damage. Consequently, you should take suitable steps to keep them safe.
The best of these protective measures is to wear an oral appliance. By wearing a sports mouthguard, you'd keep your teeth safe from physical injuries. Meanwhile, a nightguard would prevent the wear and tear of bruxism during the night.
Schedule Regular Dental Checkups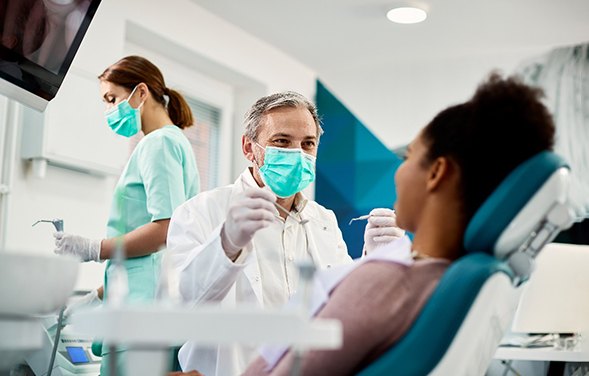 No matter your level of care, you need help to maintain implants. There are issues you'll inevitably miss if you work on your own. Therefore, remember to attend six-month dental checkups and cleanings. These visits with a dentist offer great protection.
If you weren't aware, dental checkups prevent threats to your implants. Their core function is to treat oral health issues before they worsen. As a result, these trips to the dentist will nip potential implant problems in the bud.
Understanding the Cost of Dental Implants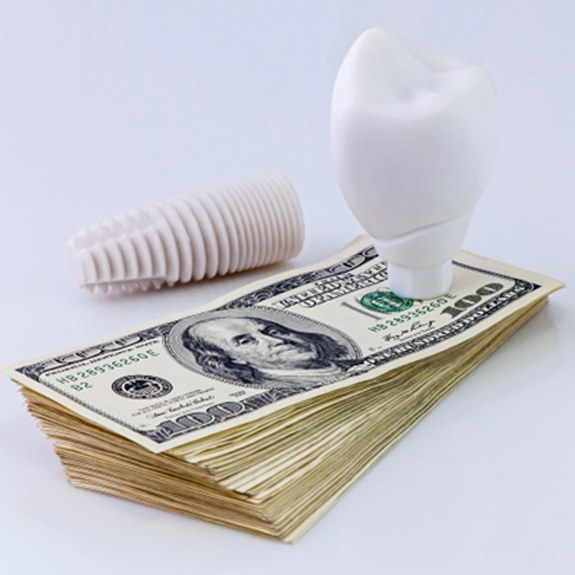 Dental implants are like the Rolls Royce of tooth replacement. They are on the higher end in terms of up-front cost, but you absolutely get what you pay for.
No two patients are alike, which is why we require an initial consultation for dental implants. This allows us to formulate a cost estimate based on the unique factors that make up your treatment plan. From here, we can discuss ways to make the financial aspect of your care feasible.
Until we can meet you in person, here's what you should know about the cost of dental implants in general.
Preliminary Treatments & Dental Implant Surgery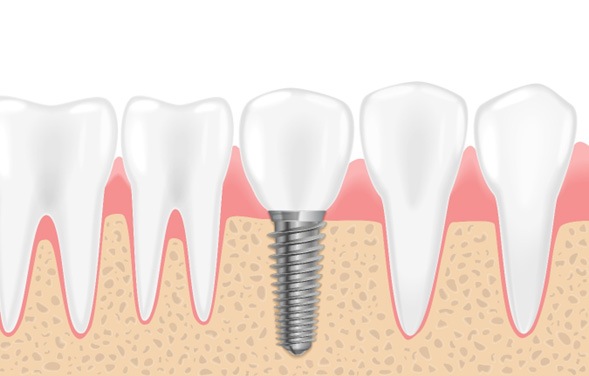 Dental implants rely heavily on a strong, healthy jaw for support. For that reason, patients who suffer from oral health problems are likely to need preliminary treatments (like gum disease therapy or bone grafts) in order to prepare them for the implants. Obviously, these procedures add to the overall cost of treatment.
As for the surgery itself, that should be handled in-house by Dr. O'Brien himself. That means that we'll be able to give you a precise estimate of what that surgery will cost before doing anything.
Pricing Out The Parts of Your Dental Implant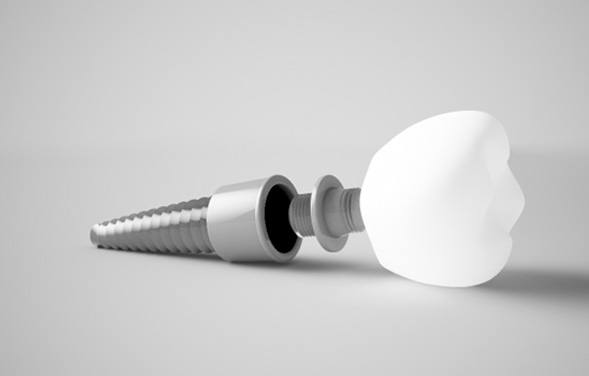 There are several factors that go into determining the overall cost of your dental implants. Besides the surgery itself, it's also smart to consider:
How many dental implants you're going to need. A single dental implant will cost much less than an all-on-4 denture, for example.
Which restoration you're using. Crowns tend to be less expensive than bridges, which are in turn less expensive than dentures. Typically, the smaller the restoration, the more affordable it will be.
The size of the dental implant, which depends on where it's placed inside the jawbone.
The manufacturer of the dental implant.
How Dental Implants Pay for Themselves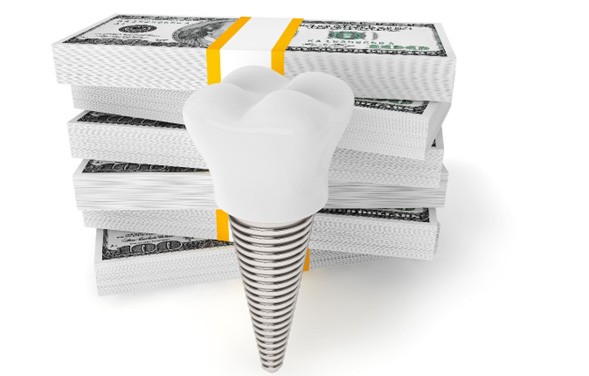 Again, it's true that dental implants have the highest upfront cost of any tooth replacement option. However, it's also true that dental implants consistently outlast those other tooth replacement options by a factor of two to one.
While you may have to spend more money in the short term, the fact that dental implants can easily last a lifetime. That saves you the cost of replacing them and affords you significant peace of mind that dentures and bridges can't offer. Thinking about it that way, it's not unreasonable to say that dental implants really do pay for themselves.
Does My Dental Insurance Cover Dental Implants?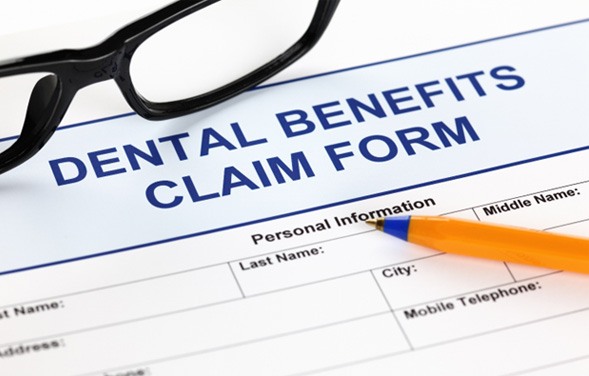 Unfortunately, most dental insurance companies do not provide coverage for implant placement. It's also worth noting that we are a fee-for-service practice, and are therefore not in-network with any dental insurer.
However, our team will work to file any claims to ensure you receive the maximum reimbursement. Even if the implant itself isn't covered, you may be able to get that reimbursement for some portion of it, like any preliminary treatments.
Making Dental Implants Affordable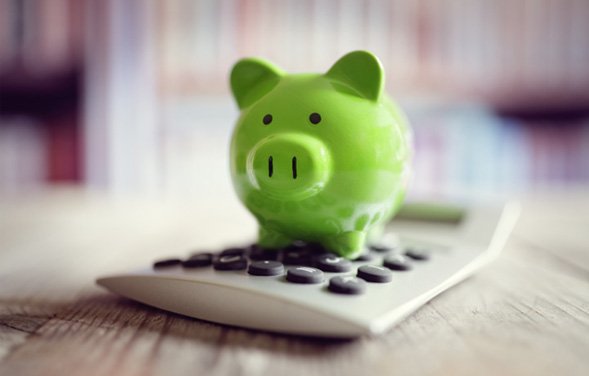 If you're intimidated by the prospect of paying for your dental implants out-of-pocket, you should know that we also offer financing options through CareCredit that can make dental fees more manageable. If you qualify, you can split your payment across several months, often with no interest.
We'll be happy to discuss all of your financial options with you at an appointment with us, so if you're interested in dental implants, feel free to schedule a consultation !
Dental Implant FAQs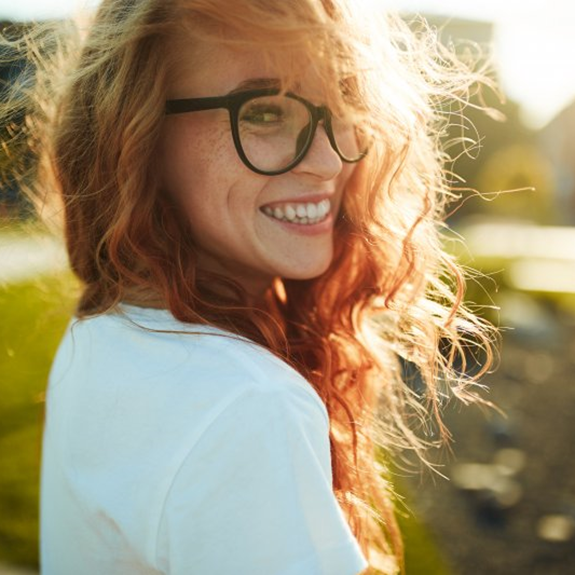 As the most effective and comprehensive solution for rebuilding lost pearly whites, dental implants offer a wide range of advantages that you can enjoy for your smile and oral health. That said, being well-informed about your treatment can be incredibly helpful and comforting when deciding. To help you feel confident about the procedure, we've listed the most common questions we get about dental implants in Tulsa. Read on to learn more or reach out to our office to schedule your appointment!
Am I Too Young to Get Dental Implants?
In most cases, dentists won't provide dental implants to patients who are not at least 18 years old. Since the jawbone is still developing until then, embedding these posts into the bone tissue can disrupt the development, resulting in problems. For most people, the jawbone won't be fully developed until young adulthood. Some patients' jaws finish developing during their mid-20s. Our team will review your oral situation, assess your jawbone density, and determine if dental implants are a viable option for renewing your smile.
Does Getting Dental Implants Hurt?
Firstly, your jawbone doesn't have many nerve endings present, so you'll be less likely to experience much pain or discomfort. Of course, we'll also numb your mouth with a local anesthetic to ensure that you're pain-free and completely comfortable throughout your procedure. Though you won't feel much during your appointment, it's normal to feel some soreness for several days after getting your implants. You can easily manage this with over-the-counter and prescribed painkillers, as well as cold compresses to minimize discomfort and swelling. If your condition gets worse, notify us right away.
How Long Do Dental Implants Last?
Due to being biocompatible with the jawbone, dental implants can often last anywhere from several decades to a lifetime if you practice good oral hygiene every day. The lifespan of your restorations will also depend on several factors, such as your health and lifestyle choices. To make the most of your newly rebuilt teeth, make sure to brush, floss, and rinse with mouthwash daily to maintain healthy gums. Also, visit your dentist every six months and refrain from biting into anything, especially sticky or hard.
Can I Get Dental Implants If I'm Diabetic?
As long as you have your diabetes under control, you may be eligible for dental implants. If not, your condition can end up delaying your recovery process, which can result in difficulties with your post fusing properly with your jawbone. Once you have your situation in check, you should have the same chances of dental implant success as a nondiabetic patient! Make sure to speak with your endocrinologist or primary physician about addressing your blood sugar levels if you're diabetic and interested in dental implants.