Emergency Dentist – Tulsa, OK
Same-Day Treatment When You Need It Most
At O'Brien Dental Wellness Center, we know accidents can happen at the most inconvenient times. This is why we make every attempt to offer same-day treatment when you need it most. Should you experience a chipped or broken tooth, a lost dental crown, sensitive teeth, or a knocked-out tooth, call our dental office right away and ask for an emergency dentistry appointment. In doing so, our dental team and trusted emergency dentist in Tulsa, OK will work diligently to get you in and provide the dental care you need, restoring your smile to its natural, healthy, and beautiful state.
Why Choose O'Brien Dental Wellness Center for Emergency Dentistry?
Same-Day Appointments Available
Nitrous Oxide for Anxious Patients
We File Your Insurance for Maximum Reimbursement
How We Treat Dental Emergencies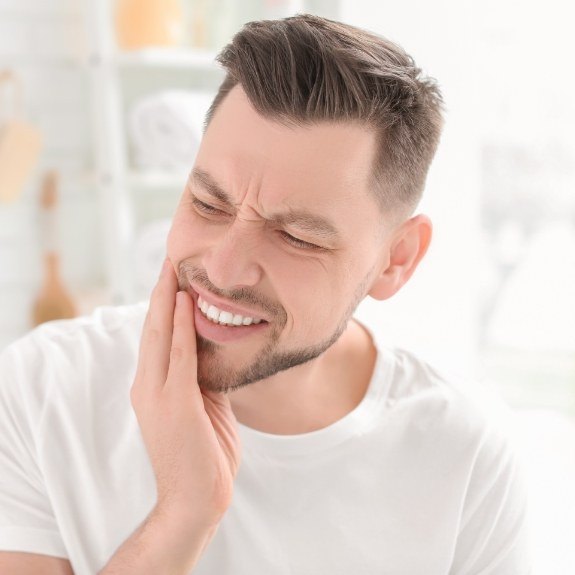 Schedule an appointment: When faced with a dental emergency, you will need to contact our dental office right away. We'll determine the severity of the problem and get you in as soon as possible while also providing first-aid tips to better manage the pain while at home.
Undergo a thorough examination: O'Brien and our team will examine your smile in its entirety and determine the underlying problem.
Review findings: After taking diagnostic images and performing a visual exam, we will compile our findings to create a treatment plan that meets your needs.
Implement treatment plan: Based on the recommendations of our team, we will begin to eliminate the pain you're experiencing as well as incorporate restorative care to improve the look and feel of your smile.
The Most Common Dental Emergencies
Knowing whether you have a dental emergency isn't always easy. This is why we recommend calling our dental office to alert us to the situation. We will determine, based on your immediate needs, if you should see us right away or will be fine waiting a day or two. Below, you will find a list of common dental emergencies that we treat, so you can better prepare should a problem occur.
Understanding the Cost of Emergency Dentistry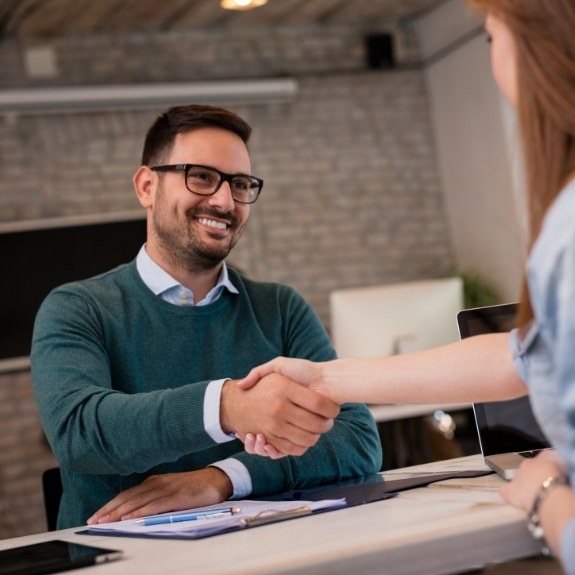 In short, pinpointing the cost of your dental emergency is impossible without seeing Dr. O'Brien since no two cases are the same. To determine how much you can expect to pay, we need to first learn more about your situation, take X-rays, and thoroughly examine your teeth and gums. Only then can we create an estimate that you can use to better plan how you will pay for treatment. With all of that said, we know that many patients are very curious about the factors that go into the price, which is why we've included additional information on the topic right here!
Why Every Dental Emergency is Different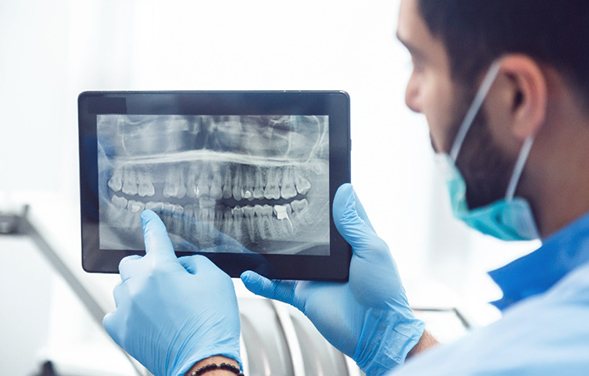 Simply put, every dental emergency is different because there are multiple types (i.e., knocked-out teeth, a loose restoration, severe gum inflammation). Furthermore, the severity of said dental emergency can vary, which impacts the treatment we recommend. While this may make pinpointing the price online near impossible, it does ultimately benefit you because your treatment will be 100% tailored to your specific dental needs, ensuring you have a beautiful, healthy, and fully functional smile in the end.
Does Dental Insurance Cover Dental Emergencies?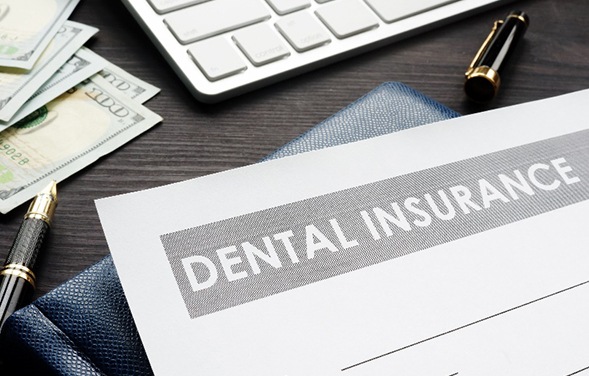 While dental insurance providers rarely cover the entire cost, there is a good chance your benefits will cover at least a portion of it. Of course, your exact coverage will depend on your specific dental plan, which is why it's so important to review the fine print. You're also welcome to get in touch with your provider directly or ask our team for help! Although we aren't in-network with any dental insurance providers, we can still help you get your reimbursement and answer any questions you have about the process.
Other Options for Making Dental Emergencies Affordable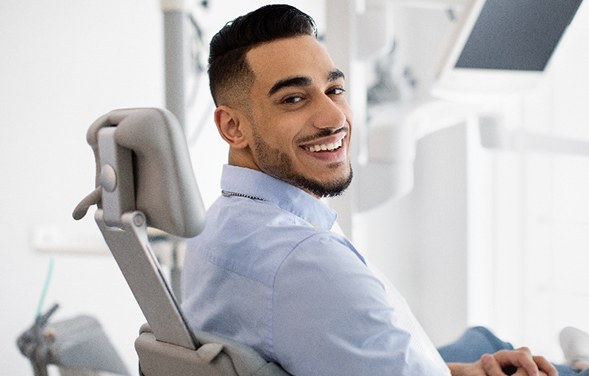 If you don't currently have dental insurance, that's okay – that isn't the only way to make the cost of emergency dentistry more affordable. For example, our team is proud to welcome flexible financing with CareCredit, which is a trusted third-party financier. They offer a multitude of payment plans, allowing you to pick the one that suits your monthly budget best. There are also low-to-no interest options for qualified patients, and signing up only takes a few clicks!
Why Taking Care Of Your Smile Can Save You Money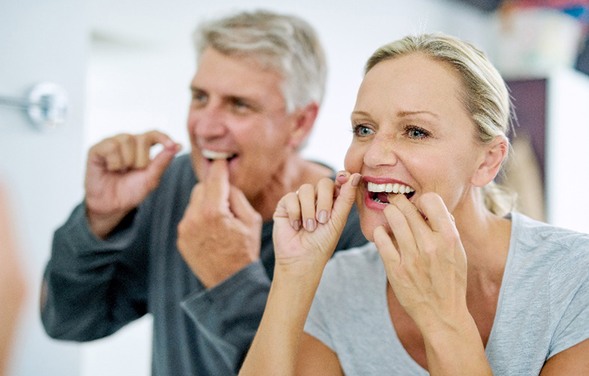 It's important to note that one of the best ways to save money is by taking good care of your smile. Naturally, this includes implementing a solid oral hygiene routine at home and visiting us semi-annually for a checkup and cleaning. However, it also extends to other best practices, like not chewing on ice, smoking, or engaging in any other unhealthy dental habits. You should also schedule an appointment with our Tulsa dental team the moment any abnormal symptoms arise. That way, we can intervene before any costly, last-minute care is needed.
Keys to Preventing Dental Emergencies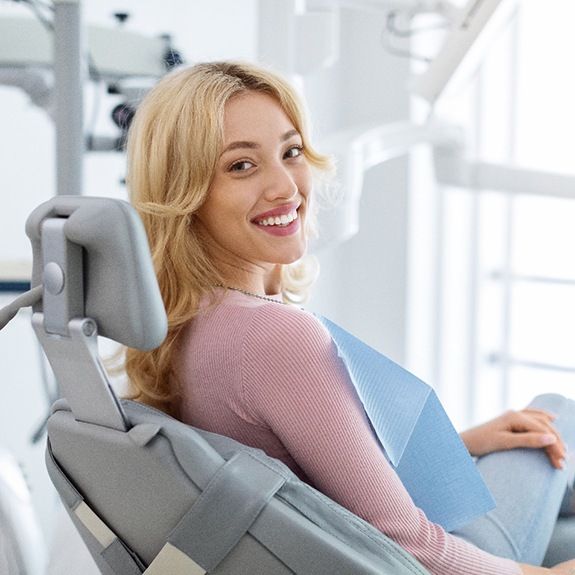 Not all dental emergencies are preventable, and we know that. However, Dr. O'Brien and our team also recognize there are steps you can take to reduce your risk of spending more time and money on emergency and restorative care. With this in mind, here are a few ways we recommend taking care of your smile to prevent a serious dental injury:
Visit Your Dentist Twice a Year
Your biannual visits to our office don't just prevent cavities – they prevent dental emergencies too. One example is that by conducting an exam every six months, we can catch (and treat) small cracks before they require same-day treatment. Similarly, the cleaning removes built-up plaque, preventing inflamed, bleeding, and painful gums. So, don't wait longer than six months between visits. If you're prone to tooth decay or have had gum disease in the past, we may even recommend coming every three months instead!
Maintain Good Oral Hygiene At Home
There's no denying the importance of consistent brushing and flossing for fresh breath. However, implementing a solid oral hygiene routine can also help prevent a host of other issues, including cavities, gum disease, and damaged restorations. So, if you aren't already, make sure you're brushing for two full minutes each morning and evening as well as flossing and rinsing with an antimicrobial mouthwash daily.
Stick to a Well-Balanced Diet
Since excessive sugar consumption is one of the leading causes of cavities, we encourage our patients to keep soda, ice cream, and other sweet treats to a minimum. The same goes for foods that are extremely crunchy, hard, or sticky. Instead, focus on filling your plate with foods that will benefit your oral health, like raw fruits and cooked vegetables. These will help keep your teeth healthy, your bones strong, and your gums infection-free.
Wear a Mouthguard During Sports
Unfortunately, one bad fall can turn a morning on the soccer field into an afternoon at our office for emergency treatment. That's why patients who participate in contact sports (and even some non-contact ones) should wear a mouthguard during games and practices. Otherwise, your teeth and gums are vulnerable to serious harm, which can be painful to experience and costly to treat.
Use Tools to Open Packages, Not Your Teeth
All too often, patients use their teeth as tools. A few examples include holding their keys in their mouth, using their teeth to open a bottle cap, and biting their fingernails. As you can imagine, habits like these can wreak havoc on your oral health, and they can even result in chips, cracks, and fractures. For these reasons, we strongly recommend not using your teeth as tools, even if it seems convenient in the moment.
Dental Emergency FAQs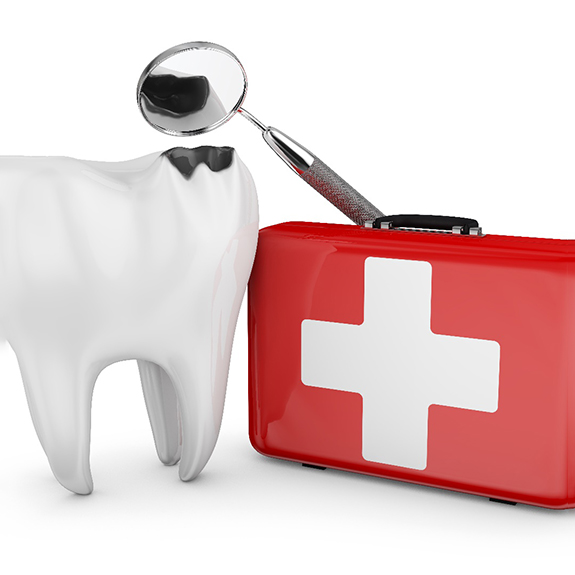 Dealing with dental emergencies can be hectic and disorienting, but we try and make the process as stress-free as possible for our patients. Part of that comes from understanding the treatment that they're in for, and what the process of dealing with their pain will entail.
If you're currently dealing with a dental emergency, here's what you should know about your condition and what we can do for you.
How Can I Sleep With A Toothache?
We try and get our patients in for emergency appointments on the same day, there are some instances when you may have to try and get some sleep while dealing with a toothache.
One thing you might find useful is to keep your head elevated, preventing blood flow to the head that could cause swelling. You should also avoid eating anything before bed that could irritate your toothache, like something acidic or hard.
Finally, over-the-counter pain medication can also help ease your discomfort, as can a cold compress.
Can I Have a Tooth Removed at the Emergency Room?
Only licensed dentists have the tools necessary to remove teeth safely and effectively. In fact, it's illegal for even ER doctors to attempt to do so. Moreover, removing a tooth isn't always the best way to deal with a toothache—you may need a root canal, for example. Only a dentist will be able to make that call.
The only time you should visit the ER for a dental emergency is in case of extreme bleeding, or if swelling is making breathing difficult.
Will My Toothache Go Away Over Time?
There are all kinds of reasons that you may develop a toothache, but if the pain is serious, it's unlikely that it's going to go away on its own. This kind of toothache is typically a consequence of a severe infection or damage to the tooth, neither of which will heal.
If you have a toothache, you should come see us right away. We'll be able to determine the underlying cause of the issue and help to clear the problem up.
Can I Pop A Dental Abscess?
Popping a dental abscess is a very bad idea. First of all, trying to do so is likely to be uncomfortable enough to discourage you completely. Even if you manage to do it successfully, you're likely to expose the wound to even more bacteria and spread those germs to other parts of the mouth.
Dental abscesses are a serious dental emergency, so if you have one you should come and see us as quickly as possible. Putting off treatment will only allow the infection to progress, making your problems worse in the long run.